Contents
1) Message from the EVN chairman
2) Call for EVN Proposals - Deadline 1st June2013
4) EVN/JIVE Technical Developments
6) EVN Observing outside of normal observing sessions
7) Why was your approved EVN project not scheduled?
---
1) Message from the EVN chairman
Dear Colleagues,
It's been a pleasure and a privilege to chair the EVN Consortium board of directors (CBD) over the last two years and it is an honour to pass on this role to Anton Zensus, of the Max - Planck Institut fur Radioastronomie in Bonn. The CBD, together with the Programme Committee and the Technical and Operations Group (TOG) are the three key bodies which bring together directors, scientists and technical experts to define the strategy, scientific programme and technical development of the EVN.
Of course the operation of the EVN rests entirely on the central functions provided and actively developed by JIVE in all areas from data transmission and correlation to user support. Indeed JIVE now takes the leading role in developing key technical aspects of the EVN.
Over the last 3 decades the EVN has been a model of how institutions both large and small can bring together a fantastic range of talented scientists and engineers to provide and develop a truly remarkable instrument, in a completely collaborative manner.
It is this combination of the broad scientific, operational and technical base together with the centrally efficient and professional activities of JIVE which make the EVN so successful. It has been a pleasure to have been involved in so many aspects of the EVN and JIVE.
I'd like to take this opportunity to thank Rob Beswick who as CBD secretary has done all the hard work of organising the meetings, keeping the minutes and keeping in touch with all corners of the network. Thank you Rob!
Finally it is with great sadness that I pass on the tragic news of Jouko Ritakari's passing. Jouko was a truly exceptional and creative scientist and engineer who contributed so much to the development of modern VLBI as well as many other areas. He will be greatly missed by all of us.
Simon Garrington
---
2) Call for EVN Proposals

**************************************
European VLBI Network
Call for Proposals
Deadline 1 June 2013
**************************************
This call for proposals is also available on the web as text
Observing proposals are invited for the EVN, a VLBI network of radio telescopes spread throughout Europe and beyond, operated by an international Consortium of institutes (http://www.evlbi.org/).
The observations may be conducted with disk recording (standard EVN or in real-time (e-VLBI).
The EVN facility is open to all astronomers. Use of the Network by astronomers not specialized in VLBI techniques is encouraged.
The Joint Institute for VLBI in Europe (JIVE) can provide support and advice on project preparation, scheduling, correlation and analysis. See EVN User Support at http://www.jive.nl
Future Standard EVN Observing Sessions (disk recording)

2013 Session 3 Oct 17 - Nov 07 18/21cm, 6cm ...
2014 Session 1 Feb 20 - Mar 13 18/21cm, 6cm ...
2014 Session 2 May 29 - Jun 19 18/21cm, 6cm ...
Proposals received by 1 June 2013 will be considered for scheduling in Session 3, 2013 or later. Finalisation of the planned observing wavelengths will depend on proposal pressure.
Future e-EVN Observing Sessions (real-time correlation)

2013 Jun 18 - Jun 19 (start at 13 UTC) 18/21cm, 6cm, 5cm or 1.3cm
2013 Sep 17 - Sep 18 (start at 13 UTC) 18/21cm, 6cm, 5cm or 1.3cm
2013 Oct 08 - Oct 09 (start at 13 UTC) 18/21cm, 6cm, 5cm or 1.3cm
2013 Nov 12 - Nov 13 (start at 13 UTC) 18/21cm, 6cm, 5cm or 1.3cm
Please consult the e-EVN web page at http://www.evlbi.org/evlbi/e-vlbi_status.html to check for possible updates, and for the available array.
Successful proposals with an e-VLBI component submitted by the February 1st deadline will be considered for scheduling in the above e-VLBI sessions starting from Sept 17th 2013.
Note that only one wavelength will be run in each session, depending on proposal priorities.
See http://www.e-merlin.ac.uk/vlbi/evn_docs/guidelines.html for details concerning the e-VLBI observation classes and the observing modes.
Features for the next regular EVN and e-EVN sessions
* The antenna at Torun now has a K-Band receiver with SEFD values of 500Jy or better.
* Both Jb1 and Jb2 will be available for EVN recording, as will simultaneous EVN+e-MERLIN operations with home-station EVN recording. For such simultaneous EVN+e-MERLIN operations, VLBI data from Cm will be made available at up to 512Mbps (e.g. 64MHz in both hands of circular polarization) on a best efforts basis. For updated information please consult the web at: http://www.e-merlin.ac.uk/vlbi/
* Please consult http://www.evlbi.org/evlbi/e-vlbi_status.html and the EVN User Guide for updates on the current EVN and e-EVN array; availability of different stations per observing band and for the dates of the e-EVN observing sessions.
Global VLBI Proposals
From Session 3 2013, the Global recording modes that used the legacy VLBA recording system will no longer be available. Tests are planned to establish Global standard recording modes and frequencies with the replacement VLBA Roach Digital Backend (RDBE), which will allow successful observations with both NRAO and EVN telescopes at 512 and 1024 Mbps under the new system. These will involve 'Hybrid-mode' correlation of 16 MHz sub-bands recorded with the EVN against 32 or 64 MHz sub-bands recorded with NRAO systems. Access to observing at 256 Mbps and lower rates (which will also use the VLBA RDBE but do not require Hybrid modes) should remain unaffected. Users may propose Global observations utilizing 512 and 1024 Mbps (with these standard modes only - see 'How to submit' section below) but should note that scheduling Global observations at these data rates will await the successful outcome of the tests. Observations using these modes will be correlated at the SFXC correlator at JIVE (default) or at the DiFX correlator in Bonn (if appropriate justification is given in the proposal).
A description of the VLBA RDBE can be found at: here
Large EVN projects
Most proposals request 12-48hrs observing time. The EVN Program Committee (PC) also encourages larger projects (>48 hrs); these will be subject to more detailed scrutiny, and the EVN PC may, in some cases, attach conditions on the release of the data.
How to submit
All EVN, Global and e-VLBI proposals (except ToO proposals) must be submitted using the NorthStar on-line proposal submission tool. Global proposals will be forwarded to NRAO automatically and should not be submitted to NRAO separately. New proposers should register at http://proposal.jive.nl
When specifying your "Recording format" for Global modes in the EVN proposal tool, select 32. 64. 128, 256, 512, or 1024 Mbps from the "Specify aggregate bitrate (use network defaults)" menu
The SCIENTIFIC JUSTIFICATION MUST BE LIMITED TO 2 PAGES in length. Up to 2 additional pages with diagrams may be included.
The deadline for submission is 23:59:59 UTC on 1st June 2013.
Additional information
Further information on Global VLBI, EVN+MERLIN and e-EVN observations, and guidelines for proposal submission are available at: http://www.e-merlin.ac.uk/vlbi/evn_docs/guidelines.html
The EVN User Guide describes the network and provides general information on its capabilities.
The current antenna capabilities can be found in the status tables. For the standard EVN see http://www.evlbi.org/user_guide/EVNstatus.txt.
For the e-EVN array see http://www.evlbi.org/evlbi/e-vlbi_status.html.
The On-line VLBI catalogue lists sources observed by the EVN and Global VLBI.
---
3) EVN Science Highlights
a) A self-absorbed compact jet in MAXI J1659-152
The hard X-ray transient MAXI J1659-152 was discovered by Swift/BAT and MAXI/GSC on 2010 September 25 (Mangano et al. 2010 and Negoro et al. 2010, respectively). Although initially this transient was mistaken for a GRB, the optical spectra and X-ray lightcurve evolution and timing properties soon showed signatures of a Galactic black hole X-ray binary system (BHXRB). Following the quick detection in the radio by the WSRT at 5 GHz, (van der Horst et al. 2010) we initiated e-VLBI ToO observations with the EVN at the same frequency. Our goal was a quick initial detection of the transient at high resolution, and looking for nearby secondary calibrators because the low declination made phase-referencing challenging for this object. We indeed detected the source (Paragi et al. 2010) and proposed furhter VLBA and e-EVN observations. We had secured a secondary calibrator and obtained an improved position for it, which was important for the follow-up observations (starting just a few days later), especially those that included the phased-array WSRT.
MAXI J1659-152 was rather special in the sense that it showed irregularly shaped dips in the X-ray lightcurve with a very short, 2.4h period. This is interpreted as the orbital period, the shortest one found in BHXRB so far. The companion star is likely an M5 red dwarf on a very close orbit to the black hole (Kennea et al. 2011; Kuulkers et al. 2012). Although the distance is not exactly known, it is between ~4-9 kpc, and the correspinding height above the Galactic plane is quite high (most likely exceeding 1 kpc). This makes the source a runaway microquasar candidate, which received a large kick velocity during the formation of the black hole in the system (Yamaoka et al. 2012; Kuulkers et al. 2013).
We carried out altogether 2 epochs e-EVN and 4 epochs VLBA observations between 2010 September 30 and October 19; the latest epoch was a non-detection. Unfortunately, this short period of radio activity did not allow us to constrain the kick velocity of MAXI J1659-152 well. We obtained 2 sigma upper limits of 115 microarcsecond/day in right ascension, and 37 microarcseconds/day in declination, over a time baseline of 12 days. These correspond to velocities of 1400 km/s and 440 km/s, respectively, assuming a source distance of 7 kpc. The unusually high uncertainty in right ascension was actually due to source structural changes in roughly E-W direction.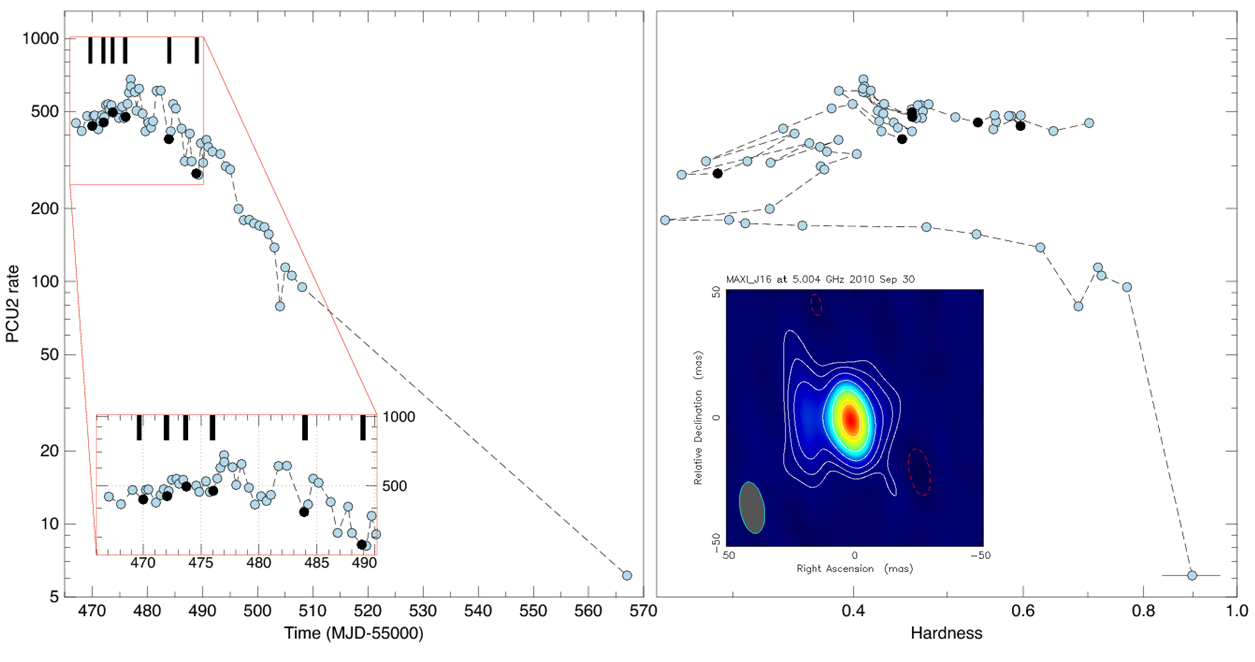 In the figure above the first epoch e-EVN map is shown with tyhe resolved structure as an inset to the RXTE X-ray lightcurve (left) and the hardness-intensity diagram (HID, right). The closest VLBI epochs to RXTE measurements are indicated by the filled black circles. As can be seen on the HID and evidenced aslo by the X-ray timing properties (Munoz-Darias et al. 2011), MAXI J1659-152 underwent a full X-ray state transition. As BHXRB advance to the soft state in an outburst, the emission in their compact jets are first quenched. This is usually followed by bright, discrete ejecta at (mildly-)relativistic velocities, and their optically thin specra dominate the radio emission for several days. We do not observe this in MAXI J1659-152. The flat radio spectral index, low polarization, compact radio structure and no high proper motion in relativistic ejecta all point to a partially synchrotron self-absorbed compact jet during the state transition of this BHXRB. Our results will appear in MNRAS (doi 10.1093/mnras/stt545).
Zsolt Paragi, Alexander van der Horst, Tomaso Belloni, James Miller-Jones, Justin Linford, Greg Taylor, Jun Yang, Mike Garrett, Jonathan Granot, Chryssa Kouveliotou, Erik Kuulkers, Ralph Wijers
Further references
Kennea J.A., Romano P., Mangano V. et al., 2011, ApJ, 736, 22
Kuulkers E., Kouveliotou C., van der Horst, A.J. et al., 2012, in The First Year of MAXI:
Monitoring variable X-ray sources --- 4th International MAXI Workshop,
T. Mihara, M. Serino (eds), IPCR CR-127, p.81
Yamaoka, K., Allured, R., Kaaret, P. et al., 2011, PASJ, 64, 32
Kuulkers E., Kouveliotou C., Belloni T. et al., 2013, A&A, 552, A32
Muñoz-Darias T., Motta S., Stiele H., Belloni T.M., 2011, MNRAS, 415, 292
---
4) EVN Technical Developments
a) The next destination: Jupiter and its satellites
L.I. Gurvits, JIVE and TU Delft, The Netherlands
On 21 February 2013, ESA has announced the outcome of a competitive selection process for the science suite of its flagship JUpiter ICy moons Explorer mission, JUICE (JUICE). Among the lucky eleven "winners" is the Planetary Radio Interferometry and Doppler Experiment (PRIDE) led by JIVE. The JUICE mission, the first Large-class mission in ESA$B!G(Bs Cosmic Vision 2015 - 2025 programme is scheduled to blast-off toward Jovian system in 2022 and reach the destination around 2030. At the vicinity of Jupiter the mission will conduct studies of the physical environment of the largest planet of the Solar System and investigations of the three Galilean moons, Ganymede, Europa and Calisto. One of the most intriguing parts of the mission is an attempt to find large undersurface bodies of water in Ganymede and Europa. Water means life. It is not unthinkable that if liquid water is present on the Jovian moons, traces of life, past or present, could be detected too...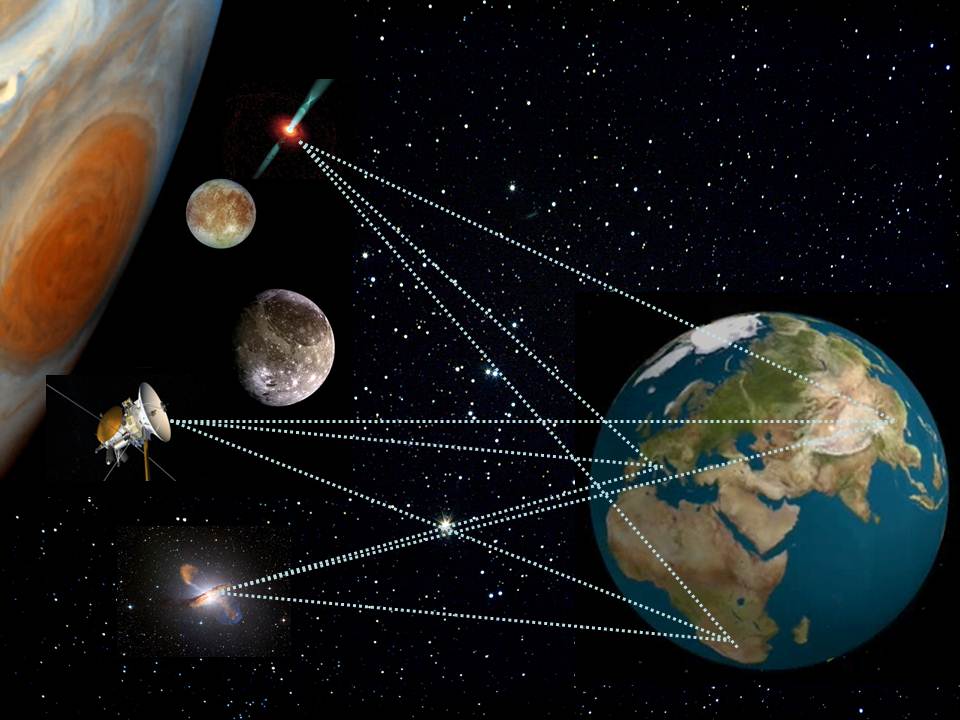 PRIDE, based to great extent on VLBI technologies, is a multidisciplinary component of the JUICE science suite. Its prime "deliverable", a highly accurate determination of the spacecraft state vectors will be used for a variety of applications, ranging from celestial mechanics to astrometry to geodynamics and even to fundamental physics. In particular, PRIDE measurements, together with other in-situ and remote experiments, will be involved in the monitoring of Ganymede's and Europa's tidal deformations - a key technique for liquid water search. It will also provide input into making ephemerides of the Jovian system more accurate - an important prerequisite for future exploration of the Solar System. PRIDE-JUICE is a direct descendant of the Huygens VLBI tracking experiment conducted under the JIVE's leadership in 2005.
At the current stage of the project, in addition to the JIVE contingent, the PRIDE-JUICE team includes scientists from Belgium (Royal Observatory), France (Laboratoire d'Astrophysique de Bordeaux, Observatoire de Paris and CNES), Germany (DLR and TU Berlin), Hungary (F.ANVMI Satellite Geodetic Observatory), The Netherlands (TU Delft), Romania (Institute for Space Sciences), and the USA (UC Berkeley). But the team is likely to grow, not least via very natural involvement of EVN institutes. An important role in triggering the PRIDE-JUICE activities was performed by the EC FP7 projects EuroPlaNet and ESPaCE.
b) e-VLBI with VIRAC's 32 m radio telescope
On 19 March 2013, the 32 meter radio telescope at Irbene, operated by Ventspils International Radio Astronomy Center (VIRAC), took part in e-VLBI with successful results.
VIRAC, an engineering research institute of Ventspils University College, is an associate partner of the EVN and a full partner in EVN projects funded through the European Union's Seventh Framework Programme. The 19 March observation session was successful in demonstrating the Irbene station$B!G(Bs ability to take part in e-VLBI observations, and to strengthen cooperative ties with EVN partners.
VIRAC gratefully acknowledges the support of its partners JIVE, the Ventspils City Council, Baltcom Fiber, and the Royal Institute of Technology (KTH Stockholm Tekniska H.ANvgskolan), and Stockholm (Sweden), who helped in providing the 1 Gbps connection from the Irbene radio telescope to the correlation center at JIVE.
---
5) EVN Scheduler's Report
a) SESSIONS SCHEDULED SINCE THE LAST NEWSLETTER
2012 Session 1: 21 February - 14 March br>
Wavelengths: 6, 1.3, 5, 3.6, 18cm br>
Number of different user projects observed: 15 br>
SESSION DURATION: 21.6 days br>
Scheduling efficiency: 52.7 % br>
Breakdown of observations by type and correlator. T-BYTES indicates the estimated disk useage (in TB) at EVN telescopes.
N-OBS
HOURS
DAYS
T-BYTES
TOTAL
43
273.2
11.4
734.3
EVN-only
26
203.2
8.5
653.8
GLOBAL
4
32.0
1.3
25.8
Short Obs.
0
0.0
0.0
0.0
Tests
13
38.0
1.6
54.7
User: Cont.
25
187.2
7.8
657.5
User: Line
5
48.0
2.0
22.1
User: Pulsar
0
0.0
0.0
0.0
EVN-Corr.
33
203.9
8.5
682.0
Bonn-Corr.
3
28.0
1.2
52.3
VLBA-Corr.
0
0.0
0.0
0.0
eEVN-Corr.
2
18.3
0.8
Other-Corr.
0
0.0
0.0
0.0
CAL-only
5
23.0
1.0
MERLIN
0
Arecibo
7
VLBA
1
GBT
0
VLA
0
Robledo
2
Goldstone
0
b) e-VLBI SCHEDULING
| SESSION | DATE | WAVELENGTH | HOURS | e-VLBI PROPOSAL TYPE |
| --- | --- | --- | --- | --- |
| | | | | NORMAL | SHORT | DISK | ToO | TRIGGER |
| --- | --- | --- | --- | --- | --- | --- | --- | --- |
| 13e02 | 05FEB13 | 6cm | 3h | 1 | - | - | - | 2 sched 0 trig |
| 13e03 | 19MAR13 | 6cm | 15h | 3 | 1 | - | - | 2 sched 0 trig |
| 13e04 | 16APR13 | 18cm | 24h | 2 | 1 | - | - | 1 sched 0 trig |
| 13e05 | 02MAY13 | 6cm | 16h | 2 | 2 | - | - | 2 sched 0 trig |
---
6) EVN Observing outside of normal observing sessions:
The EVN Consortium Board of Directors is soliciting input from users regarding EVN Out-of-Session Observing.
The EVN consists of many telescopes operated independently by a number of observatories. Each telescope its own "local" scientific program and many are in high demand. The current 3-week EVN Sessions are therefore set up well in advance to ensure that individual VLBI observations can be scheduled at all telescopes simultaneously. (The dates for the 3 sessions in 2014 were recently agreed.) Such block scheduling in predetermined dates necessarily puts some restriction on the range of observations which the EVN can support.
At its recent meeting in April the EVN CBD agreed in principle to support a small amount of Out-of-Session (OoS) observing, roughly 6 days-worth per year, whilst making the Block Sessions slightly shorter. Proposals requiring OoS time would be submitted at the normal EVN proposal deadlines and, if approved with a sufficiently high rating, scheduled subsequently in a suitable slot (but never before the next normal EVN session). This topic was briefly touched upon at the last EVN Users Meeting in Bordeaux. An initial trial of this concept is being used to support RadioAstron Key Science Proposals which require EVN ground support outside of the normal Sessions.
The purpose of this article is to solicit from the user community the following:
(A) What sort of programs can you imagine which could use this OoS observing opportunity, but cannot be schedule in current sessions ?
(B) What would a sensible breakdown of number of slots, length of slots and frequency of slots be to accommodate such programs?
(C) Any other input relevant for determining how OoS observing could be set up, especially with regard to (B)
Please reply with your input by 1 July 2013. Your views will be used to help determine how EVN OoS can be optimally established.
Please reply to the EVN Scheduler: porcas@mpifr-bonn.mpg.de
Richard Porcas (EVN Scheduler)
13 May 2013
---
7) Why was your approved EVN project not scheduled?
Following the recent discussion at the last EVN Users Meeting in Bordeaux, and a number of expressions of disappointment to me about EVN projects not being scheduled, the EVN Program Committee has suggested I give some explanation in the EVN Newsletter. After submission at the advertized EVN deadlines, all EVN proposals are reviewed by the EVN Program Committee. Proposals can be approved and given a grade (low numbers are the highest rated), or rejected, or the proposer may be advised to resubmit the proposal taking account of the EVNPC's concerns. I give all approved proposals the designation "ACTIVE". It is my job to try and schedule all approve projects - they then become "DONE".
The EVNPC understands that it may not be possible to schedule all approved projects (and proposers should realize this, too). In a previous EVN Newsletter (number 16, January 2007) I described why some projects cannot be scheduled immediately:
(see http://www.ira.inaf.it/evnnews/archive/evnnews16.html).
The scheduling rules state that no project can remain ACTIVE for longer than 2 years (except certain monitoring projects already started) - after this they are no longer eligible for scheduling and become ``EXPIRED''. Subject to this rule, all projects will be queued for at least 1 year, or for at least 2 sessions (this may be longer if some required telescopes - such as eMERLIN - or frequencies (e.g.327MHz) are not available in all sessions). After this time they also EXPIRE.
Projects are scheduled according to the priority given by the EVNPC grade and availability of resources (my rough guide: >1.5 = reasonable, 1.5 = good, 1.4 = very good, <1.4 = excellent). I have investigated the statistics of all proposals reviewed by the EVNPC in the period 2008 - 2012 (excluding ToO and 'short observations'). The results are presented in the accompanying histogram. During this period a total of 8 ACTIVE projects were superceded by follow-up proposals, and 2 proposals were withdrawn. In general a proposer was unlucky if a project of grade 1.5 or better was not scheduled. In the comments below the histogram I give the total number of proposals submitted each year and reasons why some of the better-rated proposals EXPIRED.
However, some grade 1.5 projects simply suffered from lack of resources - typically recording disk-space, or availability of specific GST ranges. Since 2010 the very welcome addition of the 3-station RUSSIAN KVAZAR network to the EVN served to boost the number of proposals and the number of telescopes per observation (many use 12 or 13) and at the same time put increased pressure on the EVN disk-space resources. Since 2010 nine projects rated 1.5 EXPIRED without being scheduled. Their disk-space requirements were 128, 58, 75, 33, 47, 175, 120, 68 and 131 TB; this may be compared with the typical 600-700 TB available per session. During the same period some lower grade proposals were scheduled, typically e-VLBI observations with no disk-space requirements. Fortunately the EVN observatories are continuously increasing the pool of disks and hopefully their shortage preventing projects being scheduled will soon be a thing of the past - until EVN starts recording at 2Gbps!
For a lighter view of some of the EVN Scheduler's problems see "Scheduler's Diary" in EVN Newsletters 7, 8 and 9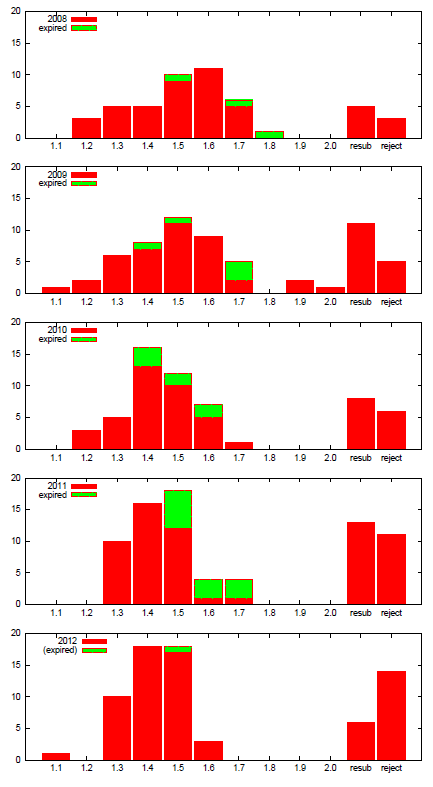 Distribution of EVNPC grades and ``expired'' projects 2008-2012.
2008 (N=49): 1 project @ 1.5 received much lower NRAO grade
2009 (N=62): 1 project @ 1.4 and 1 @ 1.5 received much lower NRAO grade
2010 (N=58): 1 project @ 1.4 received much lower NRAO grade; 2 @ 1.4 lacked MERLIN
2011 (N=76): Grade is combined EVN/NRAO grade from 1 June 2011
2012 (N=70): "Expiry" statistics not yet complete....
Richard Porcas (EVN Scheduler)
13 May 2013
---
8) Recent and future meetings
a) FIRST ANNOUNCEMENT: The 43rd YERAC (Young European Radio Astronomers Conference)
30 September - 3 October 2013, Bielefeld, Germany
YERAC has been held annually since 1968 and has been to Germany four times before, always in or around Bonn (most recently in 2003). This year, however, you are invited to the nice and historic city of Bielefeld, among the hills of the Teutoburger forest.
The primary goal of the conference is to provide participants - both masters and doctoral students, as well as early-career postdoctoral researchers - the opportunity to present their research, typically for their first time.
YERAC covers all aspects of radio astronomy.
The sessions are exclusively for student/postdoc talks, although a few experienced researchers will be invited to give overview talks on some key areas.
Participation in YERAC is by invitation. Directors (of observatories, institutes, etc) should nominate their candidates, and a letter of support is required.
To learn more about this year's YERAC, and to register online, please consult our web page at:
http://www2.physik.uni-bielefeld.de/yerac2013.html
We would be grateful if you could circulate this announcement to those who might be interested and post it at your institute.
Registration is now open. The deadline for registration and abstract submission is 1 August 2013. Directorial letters of support should be received by 15 August 2013 at the latest.
The registration fee is 180Euro and covers 5 nights accommodation; a welcome reception on Sunday night; the conference dinner; and an excursion to ASTRON, the Westerbork Synthesis Radio Telescope and the LOFAR core, on Thursday. The conference costs are supported by RadioNet3 FP7, the Max-Planck-Institut f.AN|r Radioastronomie and Universit.ANdt Bielefeld.
b) Locating Astrophysical Transients - meeting summary
13-17 May 2013
Lorentz Center, Leiden, Netherlands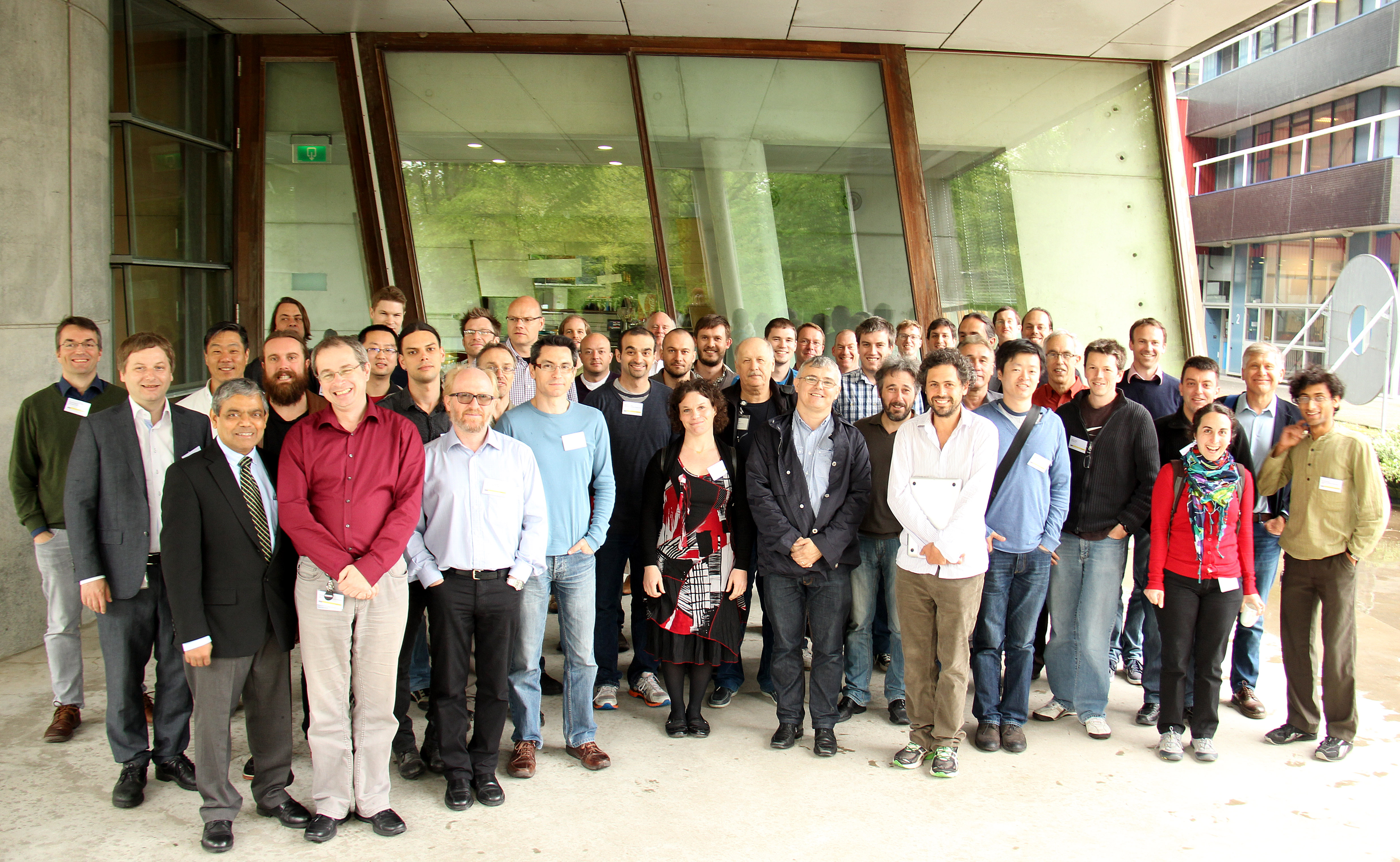 A very transient bunch of astronomers - finally localised in time and space!
The Locating Astrophysical Transients workshop (13-17 May 2013) was held in the Lorentz Centre in Leiden, the Netherlands. A group of 55 astronomers with diverse backgrounds in astronomy met to discuss the state of the art in transient science. The focus was on how to answer key questions in high energy astrophysics using radio interferometric techniques, with a special emphasis on joint multi-band observations. As the workshop was organized in Europe, specifically Netherlands, extra attention was given to the progress of e-VLBI in the European VLBI Network, the most recent LOFAR transient and long-baseline results, as well as the large-field-of-view Apertif developments at Westerbork. These were mixed with talks on optical transient search projects, X-ray transients, and on gamma-ray astronomy up to TeV regime, spiced up with introductory talks on the theoretical background of high energy emission and relativistic jets. Each session featured a limited number of talks and provided ample time for open discussion. We were particularly interested in follow-up strategies in existing transient surveys (in any bands), with the aim to use that expertise carry out transient searches and/or follow-up observations. One session was fully devoted to automated triggering of VLBI observations. The sessions were organized around scientific topics: the known transient types of neutron stars, black hole binaries, cataclysmic variables, supernovae, gamma-ray bursts, tidal disruption events (and other transient accreting phenomena near massive black holes), and possible sources of gravitational waves. On the fourth day there was a closed session for the NEXPReS e-VLBI Science Advisory Group, to discuss the various inputs received from the participants, and to find ways of improving the EVN further. The last day was even more forward looking, with a focus on SKA precursors and the future of long-baseline (transient) sience in the SKA era.
In the workshop summary Steven Tingay mentioned several figures of merits of scientific workshops. The main one, second only after the the workshop dinner, was the number of slides branded "EMBARGOED". We certainly got a peek at some stunning forthcoming results and many cell phone cameras semi-secretly captured those secret slides. For example, two of the talks were about results to be published in Science soon, one of them e-EVN related - so stay tuned!
The organizers thank to the Lorentz Centre for the excellent venue and organization, as well as to RadioNet and NEXPReS for additional financial support without which the workshop would not have been such a great success.
Zsolt Paragi and Joeri Leeuwen (Scientific Organizers) for the SOC: Felix Aharonian, Francisco Colomer, Rob Fender, Bryan Gaensler, Stefanie Komossa, Chryssa Kouveliotou, Gijs Nelemans, Steven Tingay
---
EVN Newsletter May 2013, Issue 35
Edited by Rob Beswick (JBCA/e-MERLIN)